Did you know it's National Lottery Day on July 17?
To celebrate, BetKentucky.com decided to see how the Bluegrass state compares to the rest of America when it comes to winners of the Powerball lottery jackpot. Using Powerball.com's Media Center, we sourced the 10 states boasting the most residents who've cashed a winning Powerball ticket.
Luckiest Lottery States
How Lucky is Kentucky?
Despite having the 17th highest population in the USA, Indiana has had the most success playing Powerball. This could be because it was among of the first states to join in on the lottery in 1990 — two years after the lotto began in 1988.
Meanwhile, Powerball became available in Kentucky in 1991. Since then, 18 residents have claimed the jackpot, which makes it the state with the sixth most winners across the country. But it's been over a decade since a Kentuckian won.
The most recent winner hailing from Kentucky was Muncie Media. The 24-year-old entrepreneur, who ran a Louisville lawn care business prior to his win, took home $6.6 million in late 2010. He split the prize with another winner in Illinois.
A year earlier, in 2009, Rob Anderson became the biggest Powerball winner in Kentucky history, scoring a $126 million dollar payday with a ticket he bought on Christmas Eve. Incredibly, the clerk misprinted the ticket initially, but Anderson decided to hold onto the misprint that would display the winning numbers. Talk about a Christmas miracle!
Other notable Kentucky winners include Linville Lee Huff, who in 2007 tried unsuccessfully to keep his $33.6 million jackpot a secret — but whose name was ultimately leaked by local papers.
Then there's the Nukote 22, a group of 20 women and two men employed by an industrial coating manufacturer who played Powerball for nine years before finally winning $61.5 million in 2007. The higher-ups at the company were so convinced that the Nukote 22 would all leave their jobs that they frantically sent a cohort from Nashville to learn the ins and outs of the Bardstown, Kentucky office. Ultimately, the group stayed in their positions.
As of writing, the Powerball jackpot is once again reaching record payouts, but with Kentucky sports betting set to launch in September, will lotteries face new competition among responsible gamblers?
Author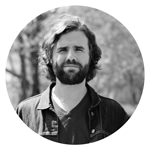 Jeff Parker is a writer for BetKentucky.com. A writer for film, television, and the internet, Jeff is a life long movie buff, with an actual Masters Degree in Popular Culture. He lives in Halifax, Nova Scotia, where he works full-time as a documentary filmmaker and producer.