It's no secret that Kentucky is home to some of the finest distilleries in the country. The state's reputation as a bourbon producer is well-established around the world. In recent years the popularity of the barrel-aged, corn-mashed variety of whiskey has exploded, bringing even more international attention to the Bluegrass state and its many distillers of hard spirits.
BetKentucky.com, your home for Kentucky sports betting, decided to spotlight the best bourbon and whiskey distilleries in the state. Using search engine traffic data from Google, can we determine which brands U.S. residents are most interested in?
The Most Popular Distilleries Are...
No Shortage of Great Bourbon in Kentucky
The Buffalo Trace Distillery in Frankfort is Kentucky's most popular spirit maker — at least in terms of Google searches over the past year. It's also the oldest continually operating distillery in the world, with its first bourbon entering production nearly 250 years ago in 1775. The historic site produces 2.65 million gallons of whisky each year.
Next up, at number two is James B. Beam Distilling Company, or Jim Beam as its many friends like to call it. The Clermont-based operation has been the life's work of seven generations of the Beam family, but believe it or not, the All-American bourbon was sold to a Japanese multinational corporation in 2014. Don't worry, the beloved Kentucky Bourbon is still produced exclusively in the Bluegrass State.
Woodford Reserve checks in at third on our list of Kentucky's most popular distilleries. While the Versailles distillery's origins date back to the early-19th century, it has not been continually operated throughout that time. In fact, the Woodford Reserve brand was not introduced until 1996. Nevertheless, the small batch distillery — with each unit displaying its own identifying batch and bottle number — has become a favorite amongst discerning bourbon lovers.
Number four on the list, Maker's Mark Distillery, is another small-batch producer that has received much fanfare amidst the bourbon renaissance of recent years. Packaged with its signature red-wax seal, the eye grabbing spirit is owned by the same company as Jim Beam.
The fifth most popular Kentucky distillery in the United States is Old Forester, which holds the unique distinction of being the bourbon that's been available for purchase the longest. This is owing to the fact that Old Forester didn't halt sales during the national prohibition period between 1920 and 1933. At the time, the distillery received special permission to be sold for "medicinal purposes."
Smaller labels, Evan Williams Distillery and Bulleit Distilling Co., share a tie for the sixth most popular Kentucky distillery.
Meanwhile, despite being one of the most recognizable bourbon brands — and a noted favorite amongst titans of hard-drinking like John Wayne and Hunter S. Thompson — Wild Turkey finds itself in eighth place on our list. In an attempt to revitalize their image, Wild Turkey hired actor Matthew McConaughey to be their creative director and spokesperson in 2016, but the relationship ended in 2022.
Our list of the most popular distillers in Kentucky is rounded out by Michter's at number nine, with Four Roses and Angel's Envy in split for tenth place.
But if you can't choose what distillery to visit, the Kentucky Bourbon Trail offers travel guides and pre-made itineraries and transportation options to assist visitors as they scour the state for the best bourbon.
Author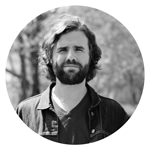 Jeff Parker is a writer for BetKentucky.com. A writer for film, television, and the internet, Jeff is a life long movie buff, with an actual Masters Degree in Popular Culture. He lives in Halifax, Nova Scotia, where he works full-time as a documentary filmmaker and producer.